Microsoft anunció los juegos que llegarán a Xbox Game Pass este mes de noviembre para consola, PC y Cloud, entre los que destacan: It Takes Two, Football Manager 2022 y Minecraft.
Gamers, Microsoft acaba de hacer oficial una primera remesa de juegos que llegarán durante los próximos días al servicio. Y se trata de títulos súper esperados en este 2021, aquí les dejamos la lista completa:
Minecraft: Java and Bedrock Editions – 2 de noviembre – PC
Unpacking –2 de noviembre – Consola, PC y Cloud
It Takes Two – 4 de noviembre – Consola, PC y Cloud (EA Play)
Kill it with fire – 4 de noviembre – Consola, PC y Cloud
Football Manager 2022 – 9 de noviembre – PC
Football Manager 2022: Xbox Edition – 9 de noviembre – Consola y PC
Forza Horizon 5 – 9 de noviembre – Consola, PC y Cloud
Grand Theft Auto: San Andreas – The Definitive Edition – 11 de noviembre – Consola
One Step from Eden – 11 de noviembre – Consola y PC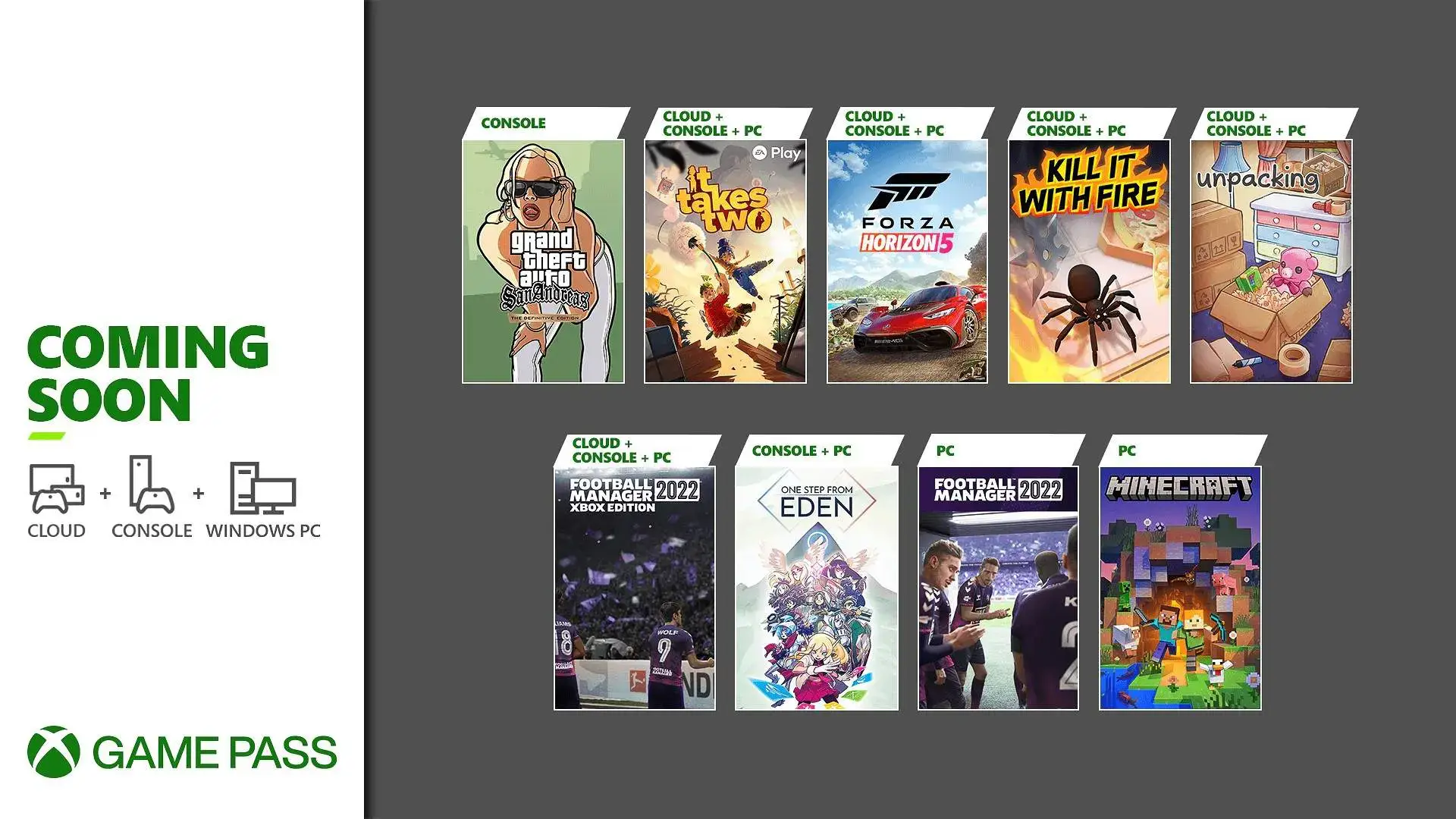 Unpacking, nuevo juego gratuito en Xbox Game Pass
Unpacking llega hoy a Xbox y PC, un título que permite a los jugadores organizar sus nuevos hogares sin el estrés de trasladarse de una casa a otra. Es un juego relajante acerca del sentimiento familiar de sacar pertenencias de cajas para colocarlas en un nuevo hogar. Mitad juego de bloques, mitad juego de decoración, podrás crear habitaciones agradables mientras descubres pistas de la vida que estás desempacando.
Los juegos que abandonan Xbox Game Pass
El próximo 15 de noviembre, seis títulos dejarán el catálogo de Xbox Game Pass, por suerte, los elegidos contarán con un descuento de hasta el 20%, para aquellos que quieran jugarlos con calma (o adquirirlos y tenerlos para siempre). Son los siguientes:
Final Fantasy VIII HD (Consola y PC)
Planet Coaster (Cloud y consola)
Star Renegades (Cloud, PC y consola)
Streets of Rogue (Cloud, consola y PC)
The Gardens Between (Cloud, consola y PC)
River City Girls (Cloud, consola y PC)
Además, les contamos que los suscriptores de Xbox Game Pass Ultimate podrán obtener tres meses gratis de Discord Nitro. Asimismo, quienes tengan esa suscripción o Xbox Game Pass para PC podrán jugar 10 horas a Battlefield 2042 en PC, Xbox Series X/S y Xbox One desde el 12 de noviembre, una semana antes de su lanzamiento oficial.
Ya lo saben gamers, para todos los suscriptores de Xbox Games Pass, les esperan estos grandes títulos, esperamos que los disfruten.
Si te gustó la nota no olvides:
Compartir
Comentar
Clic al me gusta
Fuente: Vandal, MeriStation, SomosXbox